February 2012
2/22/12--OK, back to this thing. I got a little sidetracked with acquiring a jet ski, moving up to a jet boat, then a prop boat. Also sold a house, moved into a rental, then built a new house with a nice 3-car garage. Now I need to get back into this car.
Last weekend, I found a decent grabber hood on the forum for $150. It has some rust under the front lip, which is pretty typical of our hoods, but this isn't as bad as most. I should be able to cut some of that out and weld in some fresh metal, and straighten out a small dent in the front edge. The rest of the hood looks pretty solid and straight, with only minor surface rust. Original paint just happens to be the same color as my car.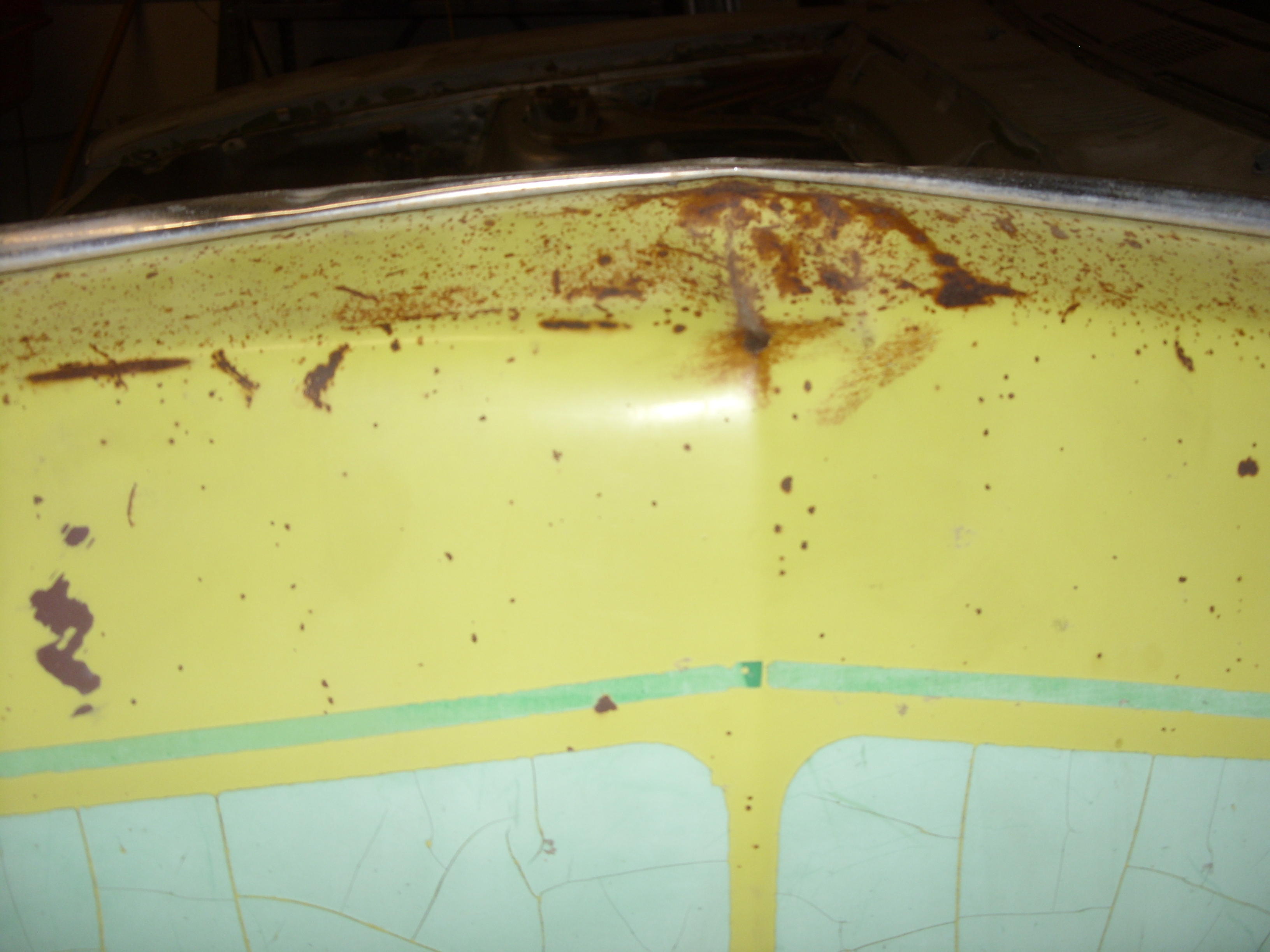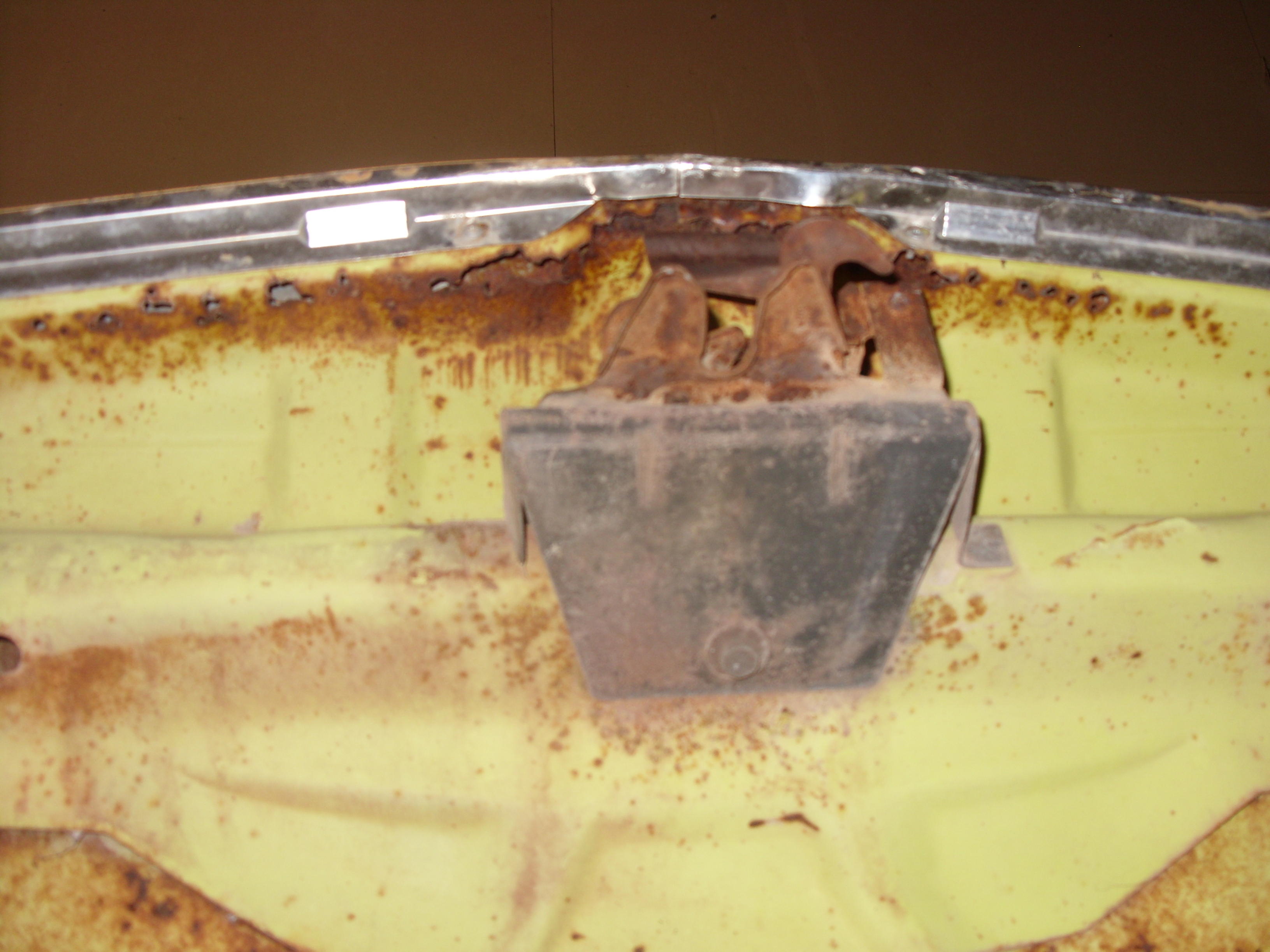 Other recent things...I messed with the exhaust last summer to try to minimize the drone, and added in an H-pipe, but the drone just moved from 60 mph to 40 mph. Thinking about maybe trying an X-pipe, and if I can fit it, maybe exiting the pipes in front of the rear tires. Real estate is tight around there, due to the subframe connectors and the Caltracs.
While in the rental house, I borrowed a fender lip roller from Don Graham in Arizona, and rolled the rear fender lips so the fenders don't cut into the tires when I launch. Then I got to meet him in person as we drove home from Yuma for Christmas this past December.
Also while in the rental home, I put on new front tires. 215/60r15 BF Goodrich T/A Radials. These are getting very hard to find, since most car wheels are going to 16-18" rims. I had to order a set from Louisiana somewhere.
Ed Davis came over a couple weekends back and gave me some pointers on doing bodywork. I was never any good at it, and figured out what I was doing wrong. This does NOT mean I will be good at it now, but at least I won't hit the same pitfalls I used to. I tended to try to sand the bondo down until it was PERFECT then try to prime over it. I could never get a perfect feeling transition from the metal to bondo, in my opinion, so I gave up on the bodywork. Ed showed me that you don't need a perfect transition, and that transition comes from the primer, and not the bondo. So, get the bondo on there pretty close to where you want it, then use the primer to fill in the transition. Also, I was hitting it with 600 grit paper trying to make it smooth, but Ed only goes to 80 before primer. The fine sanding comes on top of the primer and before the paint, and even then, it is not as fine as 600. I think he only goes to 240 or so. He loaned me a long pneumatic "block" sander which should cut my sanding time down a bunch. He also showed me to shave the bondo off soon after applying it with a grater to keep it from clogging the paper so quickly. We did the entire driver fender in an hour or so, all I have left is to clean up that little dent behind the headlight so that it fits flush with the headlight bezel.
A couple months ago, I tried to start the Maverick and the battery was dead. It is a one year old Optima Red Top, and it was not holding a charge. Assuming it was just because I seldom drive or start the car, I recharged it and then put a trickle charger on it for about two months. Came back to start it and get it inspected, and battery is dead again. Luckily, three year warranty, so I got it swapped out for a new one for free.
About the only other thing I can think of at this point is I still have a MESS of wires under the hood, mostly from the MSD box. I am debating if I really want to keep it, or if I want to put in some sort of plastic fuse box to cover it all up. It is embarrassing to lift the hood and let people see all that crap...
Also, about 4 months ago, I got a new copilot! She has not been for a ride yet, due to not having the car inspected, but she does fine in the boat and in the truck. We took her all the way to Yuma on our Christmas trip, including staying in Amarillo, Santa Fe for a couple nights, Flagstaff for a couple nights, and Yuma for a couple nights. So far, she is a VERY good traveling companion. This is Peanut...
Finally, last thing I can think of, I took one of the Bobcat taillights off and stripped the paint off and am exploring a method to clean up the pitting and re-chrome them. Most likely will have to be some sort of powder coating, since these are pot metal, not aluminum, and will melt away if dipped in acid during the chroming process.
Total (rounded) = 7250
Oil Change 59,800 miles
Transmission change 59,800