March 2006
3/2/06--Still messing with the carb to get the spitting and sputtering to go away when I floor it. Edelbrock tech said to swap the yellow springs with the silver ones under the metering rods, and it helped a little, but now I am starting to think it is not advancing like it is supposed to. I don't want to get into that as it will be an expensive fix.
Ordered the 4-leaf rear springs from JC Whitney (136.97 shipped) and new stock 3.5" shackles and bushings (39.90), and went ahead and got a new brake pedal cover that got burned off in the fire (5.95) and a new turn signal cam (mine only un-blinks when I turn left, not right, 9.95). Will take a week or more for it all to come in. Maybe next weekend I can get the lean figured out and fixed!!!
sub w/tax = 202.72
3/6/06--I took off the intake manifold this weekend, reinstalled with new gaskets, and let the RTV cure overnight. Initially it ran like crap, but I found that I had left off the large vacuum line at the rear of the intake, the one that goes to the transmission. Once I connected that, it ran fine, much of the sputtering is gone, but there is still a little left. I will take the carb apart and check it out, put in a rebuild kit if I have to. Also, I will look at putting better hoses on the PCV line and the vacuum lines that run to the heater and A/C flaps, just so I am not losing any vacuum to odd places.
I also found that the mechanical centrifugal advance on my distributor will advance 30 degrees by itself, without vacuum. So I set the total advance to 38 degrees and plugged the vacuum ports off. It idled at 15 degrees, and ran fine, but I think it accelerates faster with the vacuum assist, even if it is advancing to around 50 degrees with the vacuum hooked up and 10 degrees initial. I may bump the initial up to 15 or so, and run it. With my low compression, there is no pinging, no matter how far advanced I have been able to go.
3/7/05--Took the carb completely apart, and found a little bit of sludge (rust powder) in the bottom of the bowls. I used gun scrubber to clean all parts, and hooked up the vacuum advance. Took it for a ride. It accelerates faster, but still spits and sputters a little when the secondaries kick in. I might drop different rods in there and lean it out a bit and see if that helps. Just trying different things until it starts to work right.
3/17/06--Been a while since I last updated, but lots going on. Figured out that the sputtering when the secondaries kicked in was basically flooding, so I swapped the metering rods a few times and ended up back with the stock lean rods. It stopped sputtering and takes off pretty good again with wide open throttle.
Springs, shackles and bushings came in this week, but I haven't installed them yet. Want an entire weekend where I can mess with them and make the car level again. Also, ordered a line lock and installed it yesterday and finished today. When I ordered the shackles, they were $49 each with bushings for a 4" shackle, which Autokrafters said was stock for my year. But it was backordered, so I called and had them swap the order with the 3-1/2" shackles with bushings for $19 each, so with the extra money I saved, I got the line lock.
Line lock is an electric solenoid that installs between the master cylinder and the front brake line. You can use it to lock the brakes on while on a hill, like that ever happens in Texas! More importantly, you can stomp on the brake while sitting still, push the button to activate the line lock (and a light lights up to tell you it is activated), then let off the brakes. The front brake stays on full, while the rear brake disengages. Now when you accelerate, it immediately breaks the rear tires loose for a nice burnout without wear on the brake shoes and drums. You can then just let the button off and it will jump forward.
Installation was a bit difficult because I had to bend the old steel brake line to reach the solenoid, then bend a new line to go back from the solenoid to the brake block. Not beautiful work, but it will work until I replace all lines with braided stainless lines.
sub w/tax = 74.45
After installation, I had to bleed the front brakes, and found the bleeding nipples in bad shape, so bought a set of HELP brand "one-man" nipples that supposedly have a one-way check valve inside to prevent air from coming back in. They were steep, $12 for two, but when I open them up, I just pump the brakes 10-20 times and don't need someone under the car opening and closing the valve. Seemed to work pretty nicely.
The Angleton track is supposed to be open as of March 3, so I will drive out today and see if I can't upgrade my timeslip. I hope to have picked up at least 5-10 mph on my 1/8th.
3/17/06 UPDATE--Made it to the Angleton track tonight, and I was less than impressed by my results. First, my bald tires had no traction, and on top of that, I was using my line lock in the wet spot, so after burning out, my tires were still wet (until a track tech told me to burn out and let it roll a little while spinning to dry them out). Then, the more I drove the car, the worse it ran, so by the end of the night, 6 or 7 runs, it was running like crap and spitting and sputtering at 3000 rpms and losing all it's power. I expected to bust 80 mph in the 1/8, but only got to 74 and some change, from 69 and change before the upgrades. Not too shabby, considering that the rear tires were wet and spinning out for the first 100' or so, but still not the improvements I was hoping for. Feels like the points need to be swapped for something more advanced, maybe Pertronix or Duraspark. Also, the carburetor seems to be emptying out, since my fuel pressure is dropping on hard runs.
On the positive side, I do really nice burnouts now, with the line lock. Also, despite loss of performance, the car sounds GREAT with the exhaust dumps opened up. It would be a great "poser" or "show-off" car for a street show or gathering.
3/18/06--Took a drive to Columbus to search a HUGE junk yard, there were 5 mavs in various poor states of disrepair. Maybe a windshield on one, and a straight frame with most body panels intact. On the way home, stopped at Ed Winegar's house (the guy who told me about this yard and the one in San Antonio where I got the passenger door and fender) and he gave me a spare front grill badge in pretty good shape. He got a second in better shape from the big salvage yard with a new grill, and figured that he didn't need two...So it goes on tomorrow with the beginning of the rear suspension replacement.
3/19/06--Put the new rear leaf springs, shackles, and bushings on today. Only took 3 Led Zeppelin CDs worth of time to do them (IV, II, and I, plus five extra minutes to tighten stuff up and put the wheels back on). I figured I would do one side at a time to keep from having to take the entire rear axle off, which worked out really good. It still leans 3/8", but that could be due to the front being uneven and the tires being worn unevenly. You cannot see it with the naked eye. It drives much better. No squatting at takeoff, nice stiff, but smooth ride. It doesn't go straight to the traction bars and stop, giving you that stiff and bumpy ride, but slowly gets to the bars and stops, making it a smoother transition from rest to squat. Not sure if that makes sense...you would have to feel it to know what I am talking about.
The rear shackles are about 1/2" longer than what I had fabricated, but the final product looks really good, with the top of the tires just about even with the bottom of the fender. Same as the front wheels.
Now, I will save up for some Mickey Thompson drag radials, or maybe E/T radials. I am asking on the forum which I would be happier with, as the price is the same (approx $300 for two tires). This would hook me up better at the track but keep me street legal elsewhere.
I also installed the new turn signal cam, but it doesn't work quite right. It doesn't want to click into the turn, like it should. It clicks out fine, but I think there is too much flex in the cam to let it go completely into "turn" so it needs to be forced in. The replacement is all plastic, the original is plastic with a steel backing to stiffen it up.
I installed the new grill badge today. May need to work on it a little to fill in some gaps, but it looks good overall. Better than that "satanic" looking bullhead with the pentagram star behind it...I didn't mean for it to look satanic, just Texan. It didn't work...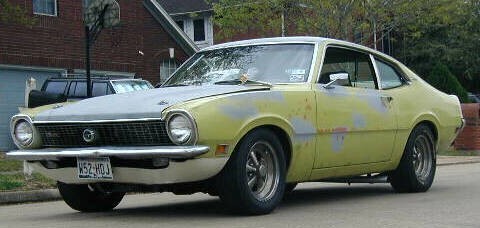 I wanted to take a picture of Anna and Tuesday doing a nice smoky burnout, so I took them to a secluded back road and taught her how to use the line lock. There was too much wind, so the smoke that should have been gathering around the rear-end was blown toward the front and didn't look right. So, we will try again when there is no wind. Car Craft magazine loves pictures of "chicks" doing burnouts, so I will try to get the car and wife in the magazine by burning out the old T/As with Anna in the front seat, and hopefully, Tuesday sticking her head out the window. It would make a great picture, and it would be cool to see the car, wife, and dog in a magazine.
3/23/06--Took dad and Tuesday for a ride this morning, to show off the line lock. The car ran beautifully, no spits, no sputters, no loss of fuel pressure. The air temps were quite cooler, like in the 50s, so I don't know if the poor track performance is due to the fuel lines getting warm, or more likely, I am emptying the fuel bowls during the burnouts. I will try to skirt the water next race and skip the burnout, and see if it runs better.
Stopped at O'Reilly this morning on the way to work and looked for an electronic ignition module to lose the points. They had a couple, ranging from $55-110, and had the Pertronix in stock, so I picked it up. Installed it this afternoon. A world of difference! Starts right up without pumping and no turning over for 5 seconds. Idles so much smoother that I dropped the idle from 700 to 550, and it just purrs. Feels like it accelerates faster also. Will find out for sure at the track. Maybe this Friday night, as mom and dad will meet me there and watch for the first time. Hope it runs well.
sub w/tax = 92.00
3/24/06--I stopped at O'Reilly after work, and was just going to price a Holley Red/Blue electric fuel pump. The red was $99 and the blue (110gph) was $109, and they had it in stock, so I just bought it. Took the mechanical pump off and plugged the hole with a chrome plate (4.99), freeing some space near the oil filter. Rehosed much of the car with 3/8" all around, moved the fuel filter that was near the carb to just before the pump, and put it all together just in time for Jordan (the neighbor kid who is also rebuilding a Maverick) to show up. I fired it up and it ran with 10psi. The Edelbrock carb requires 6, so I messed with the regulator that came with the pump, and got it to about 6-6.5 psi. Took Jordan for a drive, and MAN!!! what a difference. The tail end was sliding around in 2nd gear, and accelerated so much faster without any popping. Even hit 5500rpm on a burnout (on accident, I was showing off the line lock and gave it a little too much gas) and it went right up there under load and no faltering.
Jordan wanted to swing by his house so his dad could see all the work I have done. We got to talking, and I gave him my mechanical pump (-$82 from total) and my old air shocks so he could play with them. His dad has a Demon double pumper carb on his late-80s mustang, and cannot get it to run right, and asked if I would like to swap our carbs for a weekend so he could test out the Edelbrock and I can try the double pumper, before either of us bought new ones. Also, I interrupted him, as he was on JEGS ordering a mechanical fuel pump, so the timing was perfect.
To the track tomorrow night to test everything out. Parents will come for the afternoon and watch me race for the first time. Hopefully, I can get into the 8s on the 1/8th. According to a chart I have, my current 1/8th of 9.462 ET and 73.76mph is equivalent to 14.74 ET on the 1/4. If I beat 9.000, that will put me at 13.96 at the 1/4, so I could officially call my car a "13-second car."
Installation of the pump is right behind the fuel outlet on the fuel tank, and as high up on the inside frame rail as I could get it. I had to drain and drop the tank so I could drill mounting holes, and then I ran the hot wire to the other side in front of the tank, and wire-tied it to the battery cable, and to the last remaining hot plug on the relay that I used for the electric cooling fan on the radiator. This way, the ignition can be "on" and the fan and pump will remain off. But when I bump the engine over on "start" they both start running. I had to do a 12" loop of fuel line forward and up and over, then behind the pump, then into the "in" inlet on the pump, because the nipple on the bottom of the fuel tank is facing forward, and if I ran a line straight from nipple to inlet, it would bind and kink, restricting flow. I was afraid this would not work as the pump needs to be gravity fed, but it started right up and ran fine.
sub w/tax = (124.46 minus 82 mechanical pump=42.46)
3/26/06--Anna and I went to the Corvette show at Hooters at I45 and 1960 in Spring, and found the color we want for Della. The owner called it "Anniversary Red" because it came out on the 50th anniversary Corvette. It is a deep maroon with metaldust/pearling. I got the VIN # off the car and will contact the local Chevy dealer and find out what the color really is.
Met a guy off the Maverick Forum while there, Ed Davis (fan2488). We went to his shop and looked at the cool things he is doing there. He does great bodywork, powder coating, and fabricating of interior and exterior parts. I mentioned that I was looking for a 2nd hood to cut up and put a scoop on, so he GAVE me one! Has a fist-sized dent in the front, but I am pretty sure I can pull it out and install either a scoop or a cowl onto it. Then I can keep my original hood stock and put it back on for street driving.
Otherwise, I have a grinding/rubbing in my steering column, and am in process of taking the entire column out and taking it apart to find what is binding in there. Will put in a new key/ignition switch, but not sure what exactly is making the grind. I don't want to drive it with the potential of the steering binding up, so it is "on blocks" for now. I had to move the fuel pump to the inside of the rear fender to stop the cavitation-noise it was making being mounted above the fuel outlet. Then on test drive, it started to stall, and the grinding sensation...I assumed the key was rocking back and forth to OFF and/or shorting out. As I took the steering column apart, pieces of plastic kept falling out, so I assume that I will find chunk(s) between the actual steering axle and the sleeve around it that used to work the column gear shifter.
3/31/06--OK, let's wrap this month up. It sure has been a busy one. Things will slow down now that it is getting hot, and I really need to start working on the body.
Took the steering column completely apart, found the culprit for the grinding. It was a plastic ring leftover from the melted neutral safety switch. It had broken into pieces and was scraping at the bottom of the column. Bought some POR-15, sandblasted and painted the outer column tube, cut the shift knob off the column shift collar (but didn't fill it in yet, had to get it back together and go racing!), and tested the whole thing out. Only problem is I have no dash lights, which means I probably have a loose plug. Doesn't matter much, since the speedometer is not correct, and none of the other items on there are functioning, since I use aftermarket gauges for everything.
I met with Ed again and he gave me a Monte Carlo setup. It needs a couple of connectors, but otherwise ready to install. This will hold the shock towers apart and replace those crappy sheet metal braces that are in there now. I used POR-15 on them, and after one more coat I will install them. Since he gave me all this cool stuff, I gave him my old Performer intake. He has a Holley that needs to be rebuilt, but now he can put it on and lose the stock 2 barrel he has on it now.
Went to the track and it was raining on us the whole way, but I kept calling and they said it was dry there. We got there and the drizzle followed us. Hung out for an hour hoping it would stop, and it finally dried up, and ran 5 or 6 runs. Picked up another 2 tenths on the 1/8 mile track, and ran really good, with no sputtering. A little slow on the takeoff, but once I get it up to 2500 or 3000 it accelerates fine. With my current configuration, that is what it is SUPPOSED to do, but I never could tell since I always had fuel and spark issues messing it all up. Dropped the exhaust dumps and slowed down a little...it still wants to sputter over 3500 rpms. Might mess with it one weekend and figure out if it wants to be richer or leaner. But tonight, I just wanted to get a couple of runs in before it started to rain again.
Final times are 2.1829 60', 9.3962 ET, and 75.63 mph in the 1/8 mile. Still not under that 9.0 yet, but not too bad for a 302 grocery getter!
total = 5479.74